Lord Durham Rare Books (IOBA)
Search the inventory of Lord Durham Rare Books (IOBA)
Browse all books from Lord Durham Rare Books (IOBA)
---
About Lord Durham Rare Books (IOBA)
Collecting... The philosophy of the journey is the reward becomes even more meaningful as we mature. Collecting enhances our journey in life with the hunt of elusive items, finding them and then ultimately own them. Always something to look forward to! Lord Durham Rare Books Inc (LDRB) is a business that helps others interested in collecting Books, Prints, Maps Ephemera, Manuscripts etc. We can help you get started or help you find something special you do not seem to be finding . You never know, we might have it already!LDRB - Helping Collectors Collect™
Terms of sale for Lord Durham Rare Books (IOBA)
All CANADIAN ORDERS (shipments) EXTRA COSTS. TO THE RETAIL PRICE LISTED ON BIBLIO, ADD H.S.T. (vary by province) 5% HST is ADDED for used books. 13% is ADDED for all non-books (maps, prints, manuscripts, photos, etc
All OUTSIDE OF CANADA ORDERS (shipments) EXTRA COSTS. There may be extra cost for Customs Clearance (ie: US Customs Brokerage) and Government Taxes (ie: UK VAT tax) which are the responsibility of the buyer and to be determined on each international (outside of Canada) order.
Stated shipping costs are for packed books weighing .5-1.0 kg, that is, 1.1-2.2 lbs. We ship world-wide & securely wrap and pack all books. INSURANCE on purchases over $100 can be applied: $1 per $100. There is no handling fee and shipping is at cost.
If your book order is heavy or oversized, we may contact you to indicate the EXTRA COST to deliver your order.
Credit cards accepted through www.LDRB.ca
Wire Transfer, Money Order or Cash. Postage at cost.
We are always interested in purchasing books, maps, prints, manuscripts and photographs in our area of specialty.
Items offered are subject to prior sale.
Payment methods accepted:
---
Browse Lord Durham Rare Books (IOBA) by category
Lord Durham Rare Books (IOBA) specializes in 19th Century, Americana, Black History, Canadiana, Children / Juvenile, Military, Native, Women
---
---
Rare Books from Lord Durham Rare Books (IOBA)
CDV Right Honourable Alexander MacKenzie by MACKENZIE, Right Honourable Alexander [1822-1892]
$100.00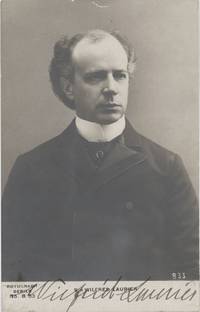 Signed Photographic Post Card of Prime Minister Wilfrid Laurier by LAURIER, Sir Wilfrid [1841-1919]
$900.00
Jeffery Amherst ASL "letter of recommendation" for Barrington Bradshaw (to unkonwn) UK Manusricpt 1796 by AMHERST, Jeffrey, 1st Baron Amherst [1717- 797]
$475.00