Zaire
from Bolerium Books Inc., ABAA/ILAB
New Arrivals
by Pottier, Johan, editor
Seller

Published

1985

ISBN

Item Price
Show Details
Description:
London: School of Oriental and African Studies, University of London, 1985. Paperback. viii, 287p., illustrated with genealogy charts and line maps, softcover, a 9.5x6 inch paperback in "perfectbound" wraps. A presentable copy, clean and unmarked, but the binding method is flawed and the initial leaves do not seem well-adhered to textblock; careful handling should prevent detachments.
Seller

Published

1979

Item Price
Show Details
Description:
Lubumbashi: Aux Editions Africa, 1979. 96p., 6.5x9.5 inches, preface, introduction, bibliography, text in French, very good in original wraps. Collection Savoir et Connaitre.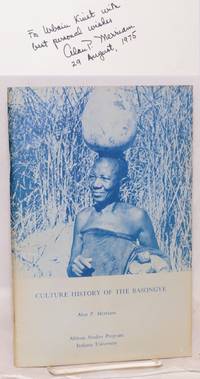 Seller

Published

1975

Item Price
Show Details
Description:
Bloomington: African Studies Program, Indiana University, 1975. iv+76p., 6x9 inches, preface, 5 maps, notes, references cited, two pages lightly underlined (preface) in original stapled, pictorial wraps. Inscribed and signed by the author, dated 29 August, 1975.