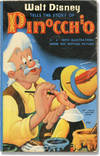 Collecting Disneyana
Welcome to the wonderful world of collecting Walt Disney! From letters signed by Disney himself to classic children's books or ephemera, be sure to check out some of the collectible Walt Disney books on Biblio!

How to tell if a signature is genuine
Author's signatures can undoubtedly increase the value of a rare book or first edition. The more scarce the book is, the more an autograph adds to its value. But how to tell if the signature is real? Find out how you can avoid common pitfalls in identifying an author's signature.