GERMAN
from Windy Hill Books
New Arrivals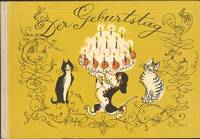 Seller

Item Price
Show Details
Description:
Zurich: Artemis Verlag, 1959 Hard Cover. Very Good+, No dust Jacket. Slight wear to corners of book, with a small crimp to lower front edge of book..

by de Saint-Exupery, Antoine
Seller

Item Price
Show Details
Description:
Dusseldorf: Karl Rauch, printed in Germany, 1958 Illustrated by author. Hard Cover. 93 pgs, cloth. Illus thru out in color & blk/white. FINE in lightly soiled dustjacket w/publicity items laid in..