from Bolerium Books Inc., ABAA/ILAB
New Arrivals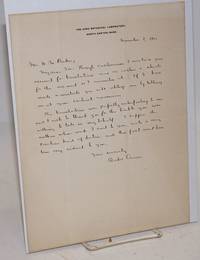 Seller

Published

1901

Item Price
Show Details
Description:
North Easton, MA: the author, 1901. Single sheet of stationery, 8.5x11 inches, faint creases from having been folded. The letter begins with an apology for mislaying the precise amount of money Ames owed to Baker, an instructor of Latin at Harvard, for some recent translation work. "The translations were perfectly satisfactory to me and I wish to thank you…
Read more
by Broman, August Theodor
Seller

Published

1863

Item Price
Show Details
Description:
Upsala: J. Arrhenii, 1863. 51p., slender 8x5 inch hardcover with decorative marbled paper on boards and cloth binder's tape spine; volume was long ago professionally strengthened, with titlepage mounted on heavier stock, patch-repair of large chips within, and stubs here and there in the gutters showing reinforcement. These old repairs are largely holding, but titlepage is very darkened and…
Read more
by Catull [Catullus, Gaius Valerius] Carl Fischer, Bele Bachem
Seller

Published

1955

Item Price
Show Details
Description:
Berlin: Vollmer Verlag, 1955. 87p. illustrated with drawings by Bele Bachem, very good in cloth and gilt, lightly-sunned spine. Catallus' poetry in Latin and German translation.