Dairy, Cattle, Cows
from Bolerium Books Inc., ABAA/ILAB
New Arrivals
by Wise, Dorothy, home economist
Seller

Published

1957

Item Price
Show Details
Description:
Berwick PA: Wise Potato Chip Co, 1957. Pamphlet. 32p., alkaline coated paperstock throughout, embellished every four pages with lurid color photography, fullpage, showing chip dishes. Softbound, 8.5x6 inch stapled color wraps, front cover a bit crimped with light soil and pressure marks, clean within, unmarked, and quite sound.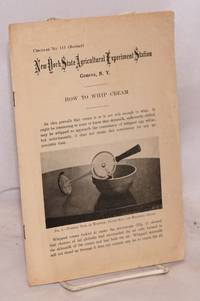 Seller

Published

1931

Item Price
Show Details
Description:
New York: the Agricultural Experiment Station, 1931. 5p., staplebound wraps, evenly toned, four black and white photos, short closed edge tear.
Seller

Published

1952

Item Price
Show Details
Description:
Loughborough: University of Nottingham School of Agriculture, 1952. 100p., 6x9.5 inches, illustrated with floorplans and charts, very good first edition booklet in stapled pictorial wraps. A little edgeworn, darkened with handling (a positive sign), and staples are rusted with a little migration.