Addicts, Addiction
from Bolerium Books Inc., ABAA/ILAB
New Arrivals
by Crawford, Robin Clinton
Seller

Published

1999

Item Price
Show Details
Description:
Ann Arbor, MI: University Microfilms International, 1999. xviii, 220 p., hardcover in plain buckram boards. Lengthy ownership inscription and address labels on front endpapers, otherwise clean. UMI reprint of a 1990 dissertation from the School of Theology at Claremont.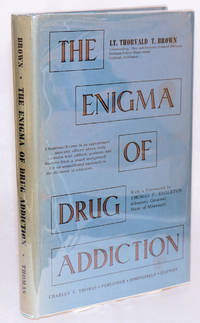 by Brown, Lieutenant Thorvald T., with a foreword by Thomas F. Eagleton
Seller

Published

1961

Item Price
Show Details
Description:
Springfield: Charles C. Thomas Publisher, 1961. xxi, 350p., foreword, preface, bibliography, index, photos, tables, very good first edition with review slip laid-in, bound in cloth, unclipped dj. Graphic photos of damage caused by injections. Eagleton is best known as George McGovern's running mate who withdrew after it was revealed he had undergone electro-shock therapy.