Swimming
from Between the Covers- Rare Books, Inc. ABAA
New Arrivals
Seller

Published

1983

Condition

Fine

ISBN

Item Price
Show Details
Description:
New York: Lothrop, Lee & Shepard, 1983. Hardcover. Fine/Near Fine. First edition. Octavo. 176pp. Illustrated with black and white photographs. Fine in a near fine price-clipped dustwrapper with crease on rear panel.
by WEISSMULLER, Johnny and Maria Weissmuller
Seller

Condition

Fine

Item Price
Show Details
Description:
Unbound. Fine. Slip of paper autographed by Johnny Weissmuller and Maria Weissmuller. Approximately 5.75" x 4.25". Fine. Signed by Johnny Weissmuller as "Johnny Weissmuller Tarzan." Maria was his fifth and final wife, dating this at 1963 or later.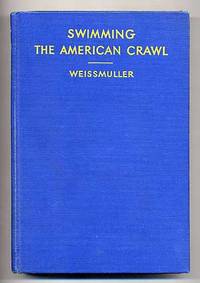 by WEISSMULLER, Johnny (with Clarence A. Bush)
Seller

Published

1930

Condition

Near Fine

Item Price
Show Details
Description:
Boston: Houghton Mifflin Company, 1930. Hardcover. Near Fine. First edition. Tiny date stamp on front fly, and a small scuff on the rear board, very near fine lacking the dustwrapper. A year after its publication novelist-turned-screenwriter Cyril Hume, then working on the script for a new film adaptation of *Tarzan the Ape Man*, spotted the athlete and BVD…
Read more