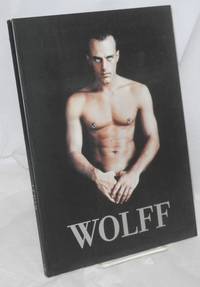 Click for full size
Wolff: five photographers , male & female, present Germany's biggest porn star
by Wolff, model, Maja Sara Rieck, Christiane Pausch, Gerritt Engel, J.B. Higgins, Kingdome 19, photography
Book Description
Berlin: Querverlag, 1998. Paperback. [90p] 8.25x11.5 inches, bilingual in English and German, collection of explicit homoero...
Title: Wolff: five photographers , male & female, present Germany's biggest porn star
Author: Wolff, model, Maja Sara Rieck, Christiane Pausch, Gerritt Engel, J.B. Higgins, Kingdome 19, photography
Format/binding: Paperback
Quantity available: 1
Binding: Paperback
ISBN 10: 3896560336
ISBN 13: 9783896560339
Publisher:

Querverlag

Place: Berlin
Date published:

1998
We have 2 copies available starting at $20.00

Querverlag, 1998-11-01. Paperback. Good. Querverlag GmbH; Berlin, 1998. Softcover. Text in English and German. First Edition. A Good to Very Good, binding sturdy and intact, interior and extremities tidy, stress crease to spine, some handling/scuff marks to covers, some edge/corner wear, trace ...

Berlin & Darmstadt, Germany: Querverlag GmbH, 1998. unpaginated; SC blk.w/gray-color photocover; slight rub w/lt.wear on edges&corners; peeling, bk.cover; clean,tight pgs. "Five photographers, male and female, present Germany's biggest porn star: Wolff." b/w, sepia, &...