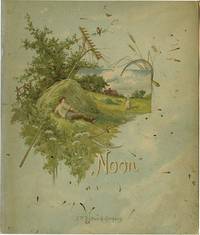 Click for full size
NOON
by NESBIT, E
Book Description
MACK, ROBEERT ELLICE. NESBIT,E[DITH]. NOON SONGS AND SKETCHES selected and arranged by E. Nesbit and Robert Ellice Mack. N...
Title: NOON
Author: NESBIT, E
Illustrator:MACK, ROBEERT ELLICE
Quantity available: 1
We have 3 copies available starting at £15.00

Nesbit, E; Mack, Robert Ellice
London: Griffith, Farran & Company unpaginated; pages gilt edged; decorative boards; internally, illus in b/w; heavily edgeworn; boards a little grimy & splashed; pages foxed, edges splashed. Pamphlet. Fair. 12mo - over 6¾" - 7¾" tall.

Nesbit, E. And Robert Ellice Mack, Editors
New York: E.P. Dutton & Co., Inc., 1900. Undated, circa 1900. Illustrated selections from famous poets and authors. Light green color illustrated cover with sepiatone pastoral engravings throughout. Authors include: E. Nesbit; Swinburne; Pope; Milnes; Spofford; and John Payne, among others. ...

Nesbit, E., selector & arranger
NY: EP Dutton, no date (ca 1910) Hard Cover. Very Good. Nesbit, E. & Robert Ellice Mack, selectors & arrangers. Produced and printed by Ernest Nister. 32 pgs, heavy wraps. Songs & poems all concerned with noontime, several by Nesbit. Blk/white vignette i llus by various artists includ...