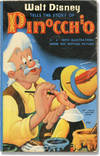 Collecting Disneyana
Welcome to the wonderful world of collecting Walt Disney! From letters signed by Disney himself to classic children's books or ephemera, be sure to check out some of the collectible Walt Disney books on Biblio!
A Brief History of the Dust Jacket
When did dust jackets first appear, and what exactly are they for? Learn about this often-important detail as it applies to book collecting. More...