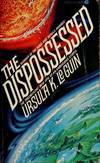 Collecting Nebula Award Winners of the 1970s
The Nebula Award has been awarded to stories in the Science Fiction and Fantasy genre every year since 1966. Learn about the winners of the 1970s!
Collecting Classic Supernatural Fiction
Classic supernatural fiction is distinct from contemporary horror because it is more literate and often relies upon poetic subtlety rather than unpleasant gratuity to create atmosphere. Enter if you dare!