The Great Formosa Hoax
George Psalmanazar played a grand prank in 1703, pretending to be a resident of the island of Formosa. His book took London by storm. Learn more...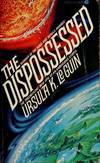 Collecting Nebula Award Winners of the 1970s
The Nebula Award has been awarded to stories in the Science Fiction and Fantasy genre every year since 1966. Learn about the winners of the 1970s!