Collecting Little Golden Books
These iconic children's board books are collectible if you can find an original in great condition! Learn more about collecting Little Golden Books.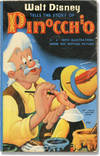 Collecting Disneyana
Welcome to the wonderful world of collecting Walt Disney! From letters signed by Disney himself to classic children's books or ephemera, be sure to check out some of the collectible Walt Disney books on Biblio!